Executive Coaching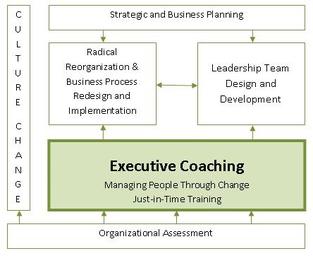 Research indicates that formal learning events have little long-term impact on individual skill enhancement Coaching, on the other hand, provides for immediate application of new knowledge and skills and personalized feedback on issues and problems.

We offer customized executive and managerial leadership and professional development assessments, individually tailored development plans, focused tutorials, and applications reviews. We then work with leaders individually to identify their performance gaps, resolve performance issues, and/or to support their ability to advance in the organization.

Our coaching improves decision making, communication, and problem solving capabilities and enhances the leader's ability to work effectively and grow in an increasingly demanding business environment.
---