Managing People Through Change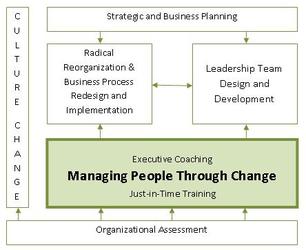 Change inevitably means attending to the vital human element. Research and experience demonstrate that organizations devote too much time to managing change in the operations and not enough time to managing change in the people. What good does it do to restructure if the pain of transition destroys individual commitment and prevents your staff from working to its full potential?

Managing yourself, your direct reports, or your team through the process of change is a competency that can be learned. It requires an understanding of how and why people respond of change the way they do and how individuals and groups naturally filter information to distort or block change. We offer specific programs for overcoming even the most entrenched resistance to change, re-energizing employees, increasing retention, and building employee commitment.
---