Healthy Health: Sweets in your Diet

Step 5: Limiting sugar and fructose is crucial.

Evidence is mounting that excessive amounts of sugar – all forms of sugar, and fructose in particular – is the primary factor causing not just obesity, and also many if not most chronic and lethal diseases. As a standard recommendation, I strongly advise keeping your TOTAL fructose consumption below 25 grams per day. For most people it would also be wise to limit your fructose from fruit to 15 grams or less, as you're virtually guaranteed to consume "hidden" sources of fructose if you drink beverages other than water and eat processed food.
At the heart of it all is the fact that excessive sugar consumption leads to insulin and leptin resistance, which appears to be the root of many if not most chronic disease. Insulin resistance has even been found to be an underlying factor of cancer. Here's an excellent illustration showing how carbohydrates and sugars affect your health.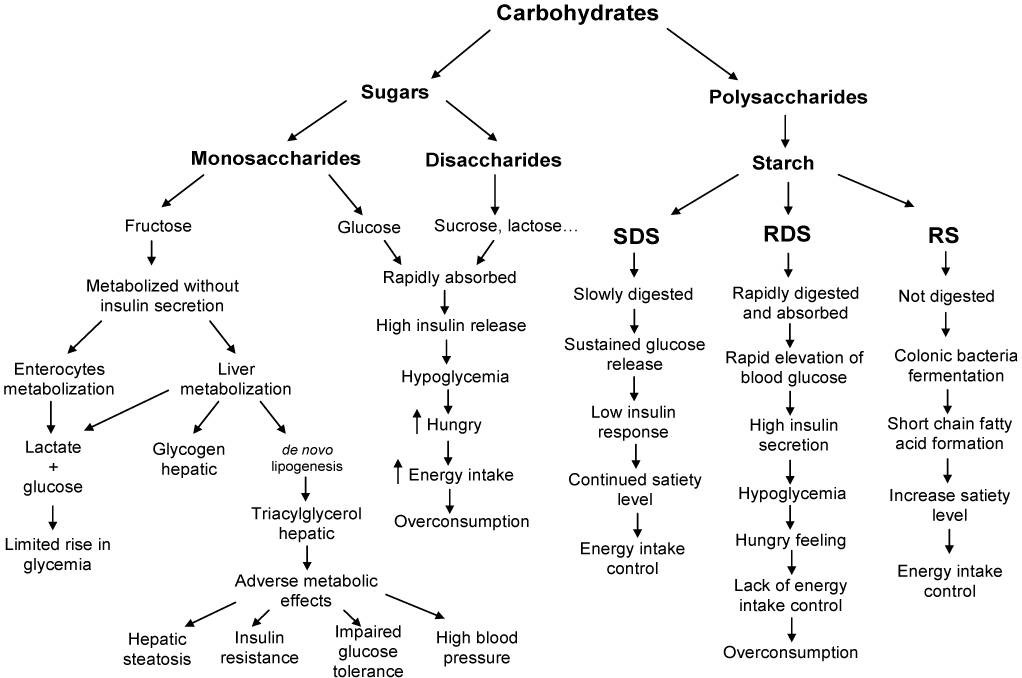 Source: Nutrients
Fructose also raises your uric acid levels – it typically generates uric acid within minutes of ingestion, which in turn can wreak havoc on your blood pressure, insulin production, and kidney function. The link between fructose and uric acid is so strong that you can actually use your uric acid levels as a marker for fructose toxicity. According to the latest research in this area, the safest range of uric acid appears to be between 3 and 5.5 milligrams per deciliter (mg/dl), and there appears to be a steady relationship between uric acid levels and blood pressure and cardiovascular risk, even down to the range of 3 to 4 mg/dl.

According to Dr. Richard Johnson, whose research has helped shed valuable light on the links between fructose and uric acid, suggests that the ideal uric acid level is probably around 4 mg/dl for men and 3.5 mg/dl for women.

I would strongly encourage you to get your uric acid level checked to find out how sensitive you are to fructose. If you feel you are healthy and do not have signs of insulin resistance, and would like to consume more fruit then it is possible to have your doctor check your uric acid levels. This is a more powerful risk factor for heart disease than total cholesterol. If your level is over 5 then more than likely you would benefit from lowering your fructose intake as fructose tends to increase uric acid levels.

Glucose is the form of energy you were designed to run on. Every cell in your body, every bacterium – and in fact, every living thing on the Earth – uses glucose for energy. And fructose is not the same molecule. Glucose is a 6-member ring, and fructose is a 5-member ring. (Sucrose, regular table sugar is 50 percent glucose and 50 percent fructose, and HFCS is 42-55 percent fructose.) Your body metabolizes fructose differently compared to glucose, converting the majority of it directly into fat.

If you received your fructose only from vegetables and fruits (where it originates) as most people did a century ago, you'd consume about 15 grams per day. Today the average is 73 grams per day which is nearly 500 percent higher a dose and our bodies simply can't tolerate that type of biochemical abuse. For example, all non-diet soda has 8 teaspoons in each can. Most packaged cereals have sugar as their major ingredient. When in doubt about the sugar content of a food, look at the list of ingredients and see how many grams of carbohydrates are listed. Unless the carbohydrates are from above ground vegetables you should be concerned that they represent sugars that could alter your insulin levels.

In vegetables and fruits, the fructose is mixed in with fiber, vitamins, minerals, enzymes, and beneficial phytonutrients, all of which help moderate the negative metabolic effects.

Step 6: Avoid Artificial Sweeteners.

While all the sugars listed above are best avoided, NONE of them are as bad or toxic as artificial sweeteners. I don't say this lightly and took two years out of my life to carefully research this topic for my bestselling book on the topic – Sweet Deception. So if you must have soda, regular is superior to diet for all the reasons I discuss on the site and in my book.

Many people ask about Splenda, Equal or Nutrasweet (Aspartame). These artificial sweeteners need to be eliminated. There are more adverse reactions to Nutrasweet reported to the FDA than all other foods and additives combined. In certain individuals, it can have devastating consequences. You should also avoid artificial chemicals like MSG.

If you are healthy you can use a few teaspoons of succanat, or better yet, dextrose (pure glucose with no fructose) intermittently. Natural Stevia is also a safe, natural alternative. It is hundreds of times sweeter than sugar and has virtually no calories. Some don't like its taste, and other than that it is nearly the ideal sweetener.

Step 7: Avoid hypoglycemia.

Most of us eat far too many grains and sugars, which cause us to have large amounts of insulin circulating in our blood. When you stop eating grains your body will take several days to lower your insulin levels. In the meantime, the high insulin levels will cause you to experience many symptoms such as dizziness, confusion, headaches,
and generally feeling miserable.

If you eat every two hours for the first few days of your transition you will be able to avoid this temporary side effect. You will need to eat some protein, such as an egg, piece of free range pastured chicken, turkey, fish, or some organic seeds, along with a vegetable such as a piece of celery, cucumber, or red pepper. This will help to prevent hypoglycemia and stabilize your blood sugar.

Even after your system has adjusted, it is wise to eat 4-6 meals a day. Eating more frequently has been shown to normalize cholesterol levels. It will also help your adrenal glands better regulate cortisol levels. Cortisol bolsters you during more long lasting stresses, such as during a prolonged illness or when you have chronic mental or emotional stress going on in your life. If your adrenals are exhausted from a high-sugar diet, your body will be less capable of dealing with, and healing from, longer-term stresses.

Have a Plan – If you fail to plan, you are planning to fail

Most people have great difficulty implementing these suggestions unless they sit down once a week (at a time when you are well rested, fresh and relaxed) and plan every meal for the week ahead.

If you are working, a good rule is to prepare your meals ahead of time. For example, make your lunch for the next day before you go to bed. Also determine what you will be eating for dinner before you leave the house in the morning. This will allow you to go to the store if necessary, or take the appropriate items out of the freezer. This is strongly advised. Those who don't do this will more easily slip back into their old, more comfortable, and less healthy eating habits.

Key to Success – 10 Recipes

All you need to do is to have at least ten recipes that you like. It is vitally important to have variety. Variety is the key.