Beans & Other Legumes

Legumes, a class of vegetables that includes beans, peas and lentils, are among the most versatile and nutritious foods available.

Legumes are typically low in fat, contain no cholesterol, and are high in folate, potassium, iron and magnesium. They also contain beneficial fats and soluble and insoluble fiber.

A good source of protein, legumes can be a healthy substitute for meat, which has more fat and cholesterol.

When you want to add more beans and other legumes to your diet, and you aren't clear about what's available and how to prepare them.

Types of legumes

Many supermarkets and food stores stock a wide variety of legumes both dried and canned.

Here are several of the more common types and their typical uses.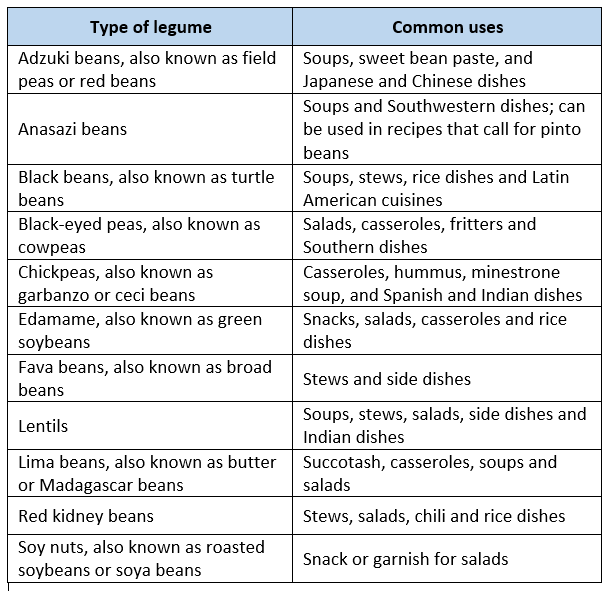 Preparing legumes
Dried beans and legumes, with the exceptions of black-eyed peas and lentils, require soaking in room-temperature water, a step that rehydrates them for more even cooking. Before soaking, pick through the beans, discarding any discolored or shriveled ones or any foreign matter. Depending on how much time you have, choose one of the following soaking methods:
Slow soak. In a stockpot, cover 1 pound dried beans with 10 cups water. Cover and refrigerate for at least 4 hours or overnight.
Quick soak. In a stockpot, bring 1 pound of dried beans and 10 cups of water to a boil. Cover and set aside and let beans soak for 1 to 4 hours at room temperature.
Next Time: Cooking Tips and Preparation Ideas