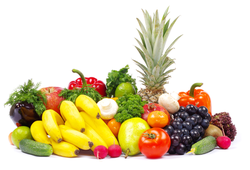 At Nat-Ur-Treasures we know what you may be thinking: carbohydrates for weight loss? We thought we're supposed to avoid carbs. Well, that's only partly true. There are definitely carbohydrates that aren't good choices when you're creating your plan of action to lose weight – particularly white bread and pasta or anything with white refined flour. What isn't mentioned as often, though, is that there are actually carbohydrates that are good for weight loss, not to mention they are essential for energy and brain function.

Here are the best carbohydrates for weight loss:

1. Vegetables
We all know vegetables are healthy, however when you think you have to cut out all carbohydrates, that means you'd be missing out on all the health benefits of vegetables. They contain essential vitamins and minerals, fiber, and antioxidants. So they can fight free radical damage, cancer and many other diseases.

2. Fruits
Fruits might be another food on the list that you may not have considered in the carbohydrates categories. Fruits are healthy carbohydrates that are rich in fiber, antioxidants, and many vitamins and minerals. This is a carbohydrate that you definitely don't want to cut out!

3. Beans
Beans are great for your heart and digestive system. When the digestive system is functioning optimally, weight loss is easier. Beans are high in fiber, protein and iron. This means you'll have energy for your workouts!

4. Quinoa
Quinoa is actually a super food. It's a super protein which means it contains essential amino acids. This helps build lean muscle and boost your metabolism. Also super foods are for weight loss.

5. Brown Rice
Brown rice is a great alternative to white rice (which falls in the "not very healthy" carbohydrates). Unrefined brown rice is packed full of slow-burning fiber, vitamins and minerals. Plus it's an easy and healthy substitute. It helps you feel fuller longer, which is always a huge benefit when you're aiming to lose weight.