Chia and Potato Protein and Fiber

Chia's Superfood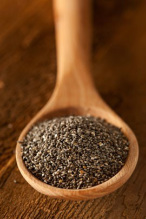 Chia is one of the "new" generation of super-plant proteins.
In the 1980s, America's first introduction to chia seeds came in the form of a pet – the "Chia Pet" – that terracotta ram, puppy, kitten, bull, or teddy bear that sprouted "hair" in two short weeks.
However, chia has actually been around for much longer.
One of the original superfoods of the Americas and a highly prized staple of the Aztec diet, chia was valued for the energy, vigor and staying power it offered this ancient civilization's warriors.
A very early form of fast food, Native American Indians packed the seeds for long trips, adding water to them at mealtime. The seeds would expand from the liquid, providing not only energy for their travels, also a feeling of fullness, too.
Chia seeds contain 18 amino acids, including all the essential amino acids.
When chia seeds are milled, they remain gluten-free and take on a delightfully nutty taste. And they contain alpha-linolenic acid (ALA), an essential omega-3 fatty acid.
Researchers believe that natural food sources of ALA may offer greater support to heart health, and help counteract less-than-desirable effects of excess linoleic acid (LA) from processed fast foods.
Golden Chlorella – microalgae powder that's:
50% vegetarian protein by weight
A highly digestible protein source
Gluten-free
Sustainably grown in the US without pesticides and herbicides
A natural source of tocotrienols and tocopherols

Golden Chlorella™ High Protein
also contains 18 amino acids, including ALL the essential amino acids, and a variety of naturally-occurring compounds, such as carotenoids and plant sterols.
Potato Protein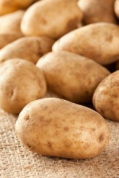 The protein derived from
potatoes is equal to eggs
in biological value.


One of the newest vegan protein powders on the market today is also one from an unlikely source: potatoes.
Potato protein is surprisingly valuable:
Contains between 90 and 95% amino acids
Is highly bio-available
Highly digestible and fast absorbing
Contains more BCAAs than whey protein
Has a higher biological value than casein and is equal to eggs
Low allergenic potential
Its nitrogen content is remarkably close to animal protein
Contains more essential amino acids than any other protein powder!
With its high BCAA and essential amino acid content, potato protein is the perfect vegan protein for building lean muscle and aiding recovery after exertion.
Enzyme and Fiber




Plants for Fiber

5-Fiber Blend includes:
Acacia – Valued for centuries for its food uses, acacia is harvested from the sap of the Acacia Senegal tree
Inulin – A naturally-occurring type of polysaccharide, this soluble fiber has no caloric effects and promotes intestinal function
Bamboo – This new "health food" is a source of fiber
Pea – An insoluble fiber that helps promote regular bowel movements
Apple – Contains both soluble and insoluble fibers
Plus 4-Enzyme Blend, including the digestive enzymes protease, amylase, and lipase, and the metabolic enzyme, bromelain, to better support digestion.
.