Listen to Your Body

There is a general principle that is useful for everyone, no matter what level you choose: As I mentioned in the introduction, this is one of the most important principles in this series of recommendations. If any food or supplement makes you sick in any way, stop it immediately!

Step 1: Eliminate all wheat, gluten, and highly allergenic foods from your diet.

Gluten is the primary protein found in wheat. In my experience, there is an epidemic of hidden intolerance to wheat products. There are frequently no obvious symptoms. Rice, corn, buckwheat and millet have glutens, and the glutens in these foods do not contain the gliadin molecule that can provoke the inflammatory reaction. Therefore, they are usually safe. Other safe grains include quinoa and amaranth.
Gliadins are molecules that frequently cause toxic reactions that trigger your immune response. When gliadin in gluten becomes water soluble, it is free to bind to cells in your body.

If you are sensitive, your body will make antibodies to gliadin and attack the cells gliadin has attached itself to, treating those cells as an infection. This immune response damages surrounding tissue and has the potential to set off, or exacerbate, MANY other health problems throughout your body, which is why gluten can have such a devastating effect on your overall health.

In some cases people are allergic to rice, corn, buckwheat or millet, independent of the reaction to gluten/gliadin.

Reading labels can be very misleading; don't trust them. Some companies list their products as gluten free, without understanding the scientific basis of the problem with gliadin. For clarity of communication, sub-clinical gluten intolerance will be used to refer to this sensitivity to gliadin in the rest of this discussion.

Unfortunately, most people don't feel better immediately after eliminating gluten from their diets as it may take 30 to 60 days for the inflammation to subside, and up to 9 to 12 months for the lining of your small intestine to heal.

On rare occasions an individual may experience significant improvement within weeks of eliminating gluten from their diet. And in other cases people may feel considerably worse upon initially starting a gluten free diet. This is usually due to other unidentified food allergies and food sensitivities – a problem that plagues about 75 percent of the population. In fact, food cravings can often serve as a gauge of food sensitivity. Craving dairy products or breads, for example, can be an indication that you are sensitive to that food, especially if you crave it and then feel worse after eating it.

For most people with gluten intolerance, by around 6 to 9 months of being gluten free, noticeable physical and mental/emotional changes will have taken place.

When you eat a food that you're sensitive to, it causes a series of negative biochemical reactions in your body, especially in your digestive tract and immune system. However, it also decreases your
serotonin levels, which can have a marked negative impact on your mood, and can cause you to turn to simple sugars and carbohydrates for relief.

Usually, when you remove allergenic foods (such as gluten) from your diet, your cravings for sweets will diminish, your mood will improve, your weight will drop, and your overall health will soar. Therefore, your first step is to avoid the following foods. They are all highly allergenic and will frequently keep your immune system in overdrive by continually triggering the inflammatory response: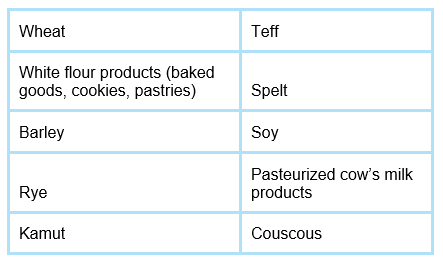 Step 2: At least one-third of your food should be uncooked.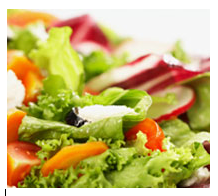 Valuable and sensitive micronutrients are damaged when you heat foods. Cooking and processing food can destroy these micronutrients by altering their shape and chemical composition. In fact, malnutrition – nutrient deficiencies – from consuming a highly processed diet is one reason why many people cannot lose weight, because it leads to overeating. If you're consistently feeling hungry, you're likely not getting sufficient amounts of the nutrients your body needs to thrive.

Cooking foods at high heat will also produce unhealthy byproducts, such as acrylamide, andthermolyzed casein.

On a more holistic note, you also need the live "sun energy" available only in raw, uncooked foods for optimal health. One of our ultimate biological nutrients is in fact sunlight, which you can absorb not only through your skin, and also through your food, where it is stored in the form of 'biophotons.'

Biophotons contain important bio-information, which controls complex vital processes in your body. The biophotons have the power to order and regulate, and, in doing so, to elevate your physical body to a higher oscillation, or order.

This is manifested as a feeling of vibrant vitality and well-being.
Every living organism emits biophotons, and it is thought that the higher the level of light energy a cell emits, the greater its vitality and the potential for the transfer of that energy to the individual who consumes it. The more light a food is able to store, such as organically-grown fresh vegetables, the more nutritious it is.

Regular vegetable juicing will easily help you reach this goal of 1/3 raw food in your diet.

Next time: Vegetables and Sweets