Have These Proteins

Remember that not all protein comes from dairy and meat. Have these tasty proteins!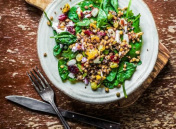 PROTEIN: Quinoa

Protein per cup: 8 grams

Quinoa is higher in protein than most other grains, packs a hefty dose of heart-healthy unsaturated fats and is also a great source of fiber. The mild-tasting grain is also a good source of the amino acid L-arginine, add more of this healthy grain to your plate.

Keep In Mind This! Pair quinoa with veggie beans to create a well-balanced meal; mix it in with morning oatmeal; use it in place of other grains in cookie recipes; up the flavor and nutrient content of a green salad with a scoop.


PROTEIN: Ezekiel Bread

Protein in 2 slices: 8 grams

Made with sprouted grains, wheat, barley, beans, lentils, millet and spelt, Ezekiel Bread contains 18 amino acids — including all of the nine essential amino acids. That's something most other bread products can't claim. Making this your go-to sandwich base ensures you get at least 8 grams of complete proteins every time you sit down to lunch.

Keep In Mind This! Use Ezekiel Bread any way you'd use traditional bread.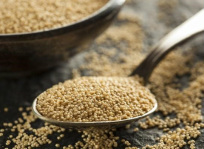 PROTEIN: Amaranth

Protein per cup: 9.3 grams
Quinoa isn't the only "ancient grain" that comes loaded with health perks. Amaranth, a naturally gluten-free seed, is a good source of digestion-aiding fiber, as well as calcium and biceps-building iron.

Keep In Mind This! Amaranth takes on a porridge like texture when cooked, making it a great alternative breakfast option.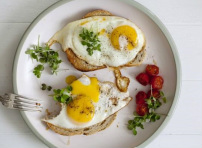 PROTEIN: Eggs

Protein per egg: 6 grams

Eggs ought to be one of your most consistent protein options. With 6 grams of protein, eggs are an ideal food for vegetarians. Their protein fuels your muscles, boosts metabolism and keeps hunger under control. Eggs contain a host of health nutrients including choline, a major brain food for health.

Keep In Mind This! Eggs can anchor a breakfast, slide into a sandwich at lunch, a dinnertime salad, or even serve as a protein-filled snack on their own.


PROTEIN: Hummus

Protein in 2 tablespoons: 2.2 grams

Garbanzo beans are high in lysine, and tahini is a rich source of the amino acid methionine. Individually these foods are incomplete proteins, however, when you combine the two together to make hummus, they create a complete protein. Just be aware that not all store-bought hummus brands contain tahini.

Keep In Mind This! Spread hummus onto sandwiches in lieu of mustard, mayo and other spreads, or use it as a dip for raw veggies.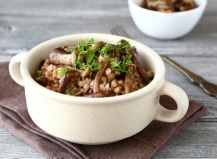 PROTEIN: Buckwheat

Protein in ½ cup (cooked): 3 grams

Every half-cup serving of this gluten-free seed packs three grams of protein, and fiber (more than you'll find in oatmeal) and half the day's magnesium, a mineral that's essential to muscle development and carb metabolism. Fill up your plate with the nutritional powerhouse.

Keep In Mind This! Add buckwheat-based Japanese soba noodles to stir-fries or make these savory buckwheat pancakes—the tomato avocado salsa with which it's paired is overflowing with flavors you're sure to love.