Tastes that are Awesome..!

These plants give you the best additional protein for your healthy body.
Protein builds muscle. And it tastes awesome.

It's easy to love protein. All of our favorite foods — all meats (burgers, steaks, pork chops, bacon) are packed with it. And with the ever-growing popularity of whey-protein shakes, we're taking in more of this essential muscle maker than ever before.

However, are we eating the right kind?

New research indicates that more of your protein should come not from meat and dairy, mostly from vegetables. In a study earlier this year, researchers discovered that patients who ingested higher amounts of vegetable protein were far less susceptible to obesity, diabetes and heart disease than those who got most of their protein from animal sources. And a second study in found that plant protein intakes may play a role in preventing obesity.

Protein is found in almost all plants, especially nuts and whole grains. However not every plant protein is a complete protein, meaning one that builds muscle and burns fat just as effectively as meat.

Look to eat at least 0.4 grams of total protein per pound of body weight. That's at least 60 grams a day if you weigh 150, at least 80 grams a day if you weigh 200.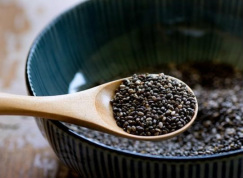 PROTEIN: Chia Seeds

Protein in 2 tablespoons: 5 grams

Chia seeds don't contain that much protein, they do contain all nine essential amino acids, which means they're easily converted by the body into muscle. Thanks to the seeds' blood-sugar stabilizing ratio of satiating protein, fats and fiber. And that's not all: ALAs, the specific type of omega-3s found in chia seeds, can decrease the risk of heart disease, according to a Pennsylvania State University study.

Keep In Mind This! Add chia seeds to yogurt or a homemade vegan smoothie to keep your energy levels up all morning long.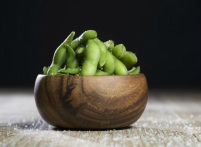 PROTEIN: Edamame

Protein per cup: 8 grams

Steamed soybeans are rich in essential amino acids and fiber these little packets of nutrition are widely available in the frozen food. Soybeans also provide a complete proteins and magnesium, a mineral that's essential to muscle development, energy production and carb metabolism.

Keep In Mind This! Serve edamame as a side dish or late-night snack. Eat roasted soybeans solo as an on-the-go snack, or add them to homemade trail mixes. Slice and pan-fry tempeh and use it in lieu of meat on a sandwich.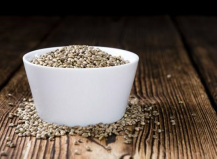 PROTEIN: Hemp Seed

Protein in 2 tablespoons: 7 grams

The hemp seed —Studies suggest that hemp seeds can fight heart disease, obesity and metabolic syndrome, likely because they're rich in protein, fiber and omega-3s.

Keep In Mind This! Simply sprinkle the hemp seeds into salads and cereals, or add hemp protein powder to your post-workout shake.