Radical Reorganization & Business Process Redesign & Implementation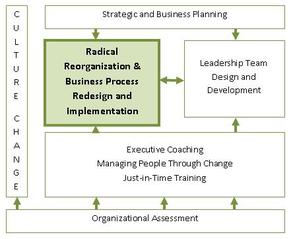 The design of an organization significantly impacts its ability to perform. Organizations that make sense on paper frequently stifle leadership, teamwork, and communication, leading to poor business results.

We design and implement reorganizations and mergers using leading edge organizational design methods that dissolve organizations commonly described as "stove-piped" or "silo-ed" and generate alternative forms of organization in their place, thereby dramatically improving performance. Our proprietary process integrates the four key elements of organization design (function, product/service, customer, and geography) and customizes them to your business objectives and culture.

We eliminate redundancies, reduce costs, increase productivity, and provide better coordination and decision making. We also improve and reengineer business processes.
---