Strategic and Business Planning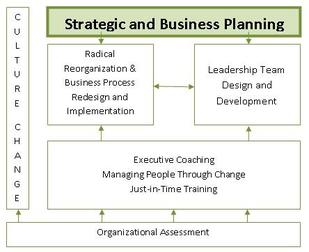 Daily emergencies often get in the way of strategic planning. And, when a strategy is developed, it often occupies space on a shelf instead of being implemented. We bridge the gap between planning and action so that strategic and business plans produce tangible business results.

We develop a vision, mission, and values that are lived by managers and employees alike on a daily basis. Our process builds and aligns management and organization, operations, technology, human resource, marketing, budget, communication, customer, and stakeholder plans into a comprehensive strategic direction for the organization.
---